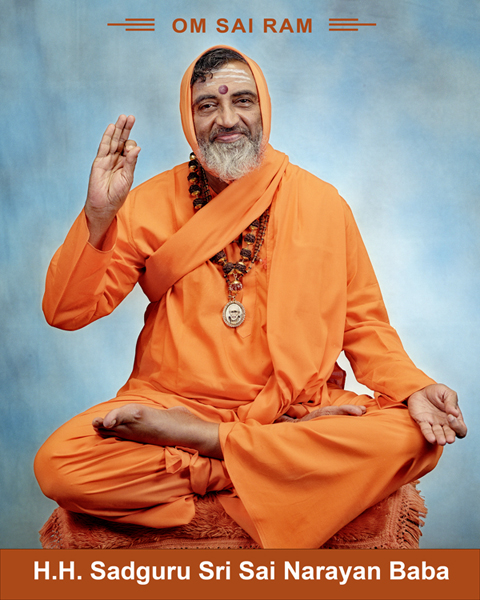 About Guruji
To pen down words to give a life-sketch of our most revered Sadguru Sri Sai Narayan Baba would be like gathering pebbles along the sands of a vast ocean.

However, with humble prostration's at his lotus feet, we attempt to speak of the greatness of this Bala /brahmachari Sage, who for years now, has been tirelessly spreading the word of Sri Sai Baba of Shirdi not only in India but across the seven seas to the continents of the world.

Born on the 20 th Fe/bruary 1936 to param Pujya Swami Karunananda, who later became his Guru, and Mata Chellamal, He grew up to be initiated by his most illustrious father, who himself was a great spiritual person, a Gayatri Mantra Siddha and an author of a number of books on spiritualism. Sadguru Sri Sai Narayan Baba's academics from the Allahabad University and thereafter, his services in the Indian Railways were but, mere interludes, along his unique passage towards Reality and its goal wherein intense Sadhana has become his way of life.




About the time when Sadguru Sri Sai Narayan Baba was 22 years of age, he came in contact with the renowned lady saint, 'Sri Aadi Maha Shakti Balayogini Saraswati Amma' of Versova, Andheri, Mumbai, when he visited her Ashram on 7 th December, 1958. The young Narayan prostrated at her lotus feet and said, "Maa, bless me that I may want nothing upto my last /breath''. The powder had been transformed to a dazzling metallic figurine of Sri Sai Baba of Shirdi. Amazed at what he beheld, Narayan asked "whose icon it was ?''. Maa replied and said, "This is Sri Sai Baba of Shirdi who would reveal Himself to him and guide him in his quest and His Message would become a torch light for him.'' Further on the Maha Shivratri of 1959, a dazzling metallic Shivling appeared from nowhere in the palm of Sri Sai Narayan Baba in the presence of Mataji. Once again during the auspicious Sri Rama Navami of 1959 another metallic dazzling icon of Sri Sai Baba appeared in the palm of Sri Sai Narayan Baba. Out of the three, one of the icons of Sri Shirdi Sai Baba, after being worshipped by Sri Sai Narayan Baba for a few years disappeared miraculously. But the two other icons, one of Sri Sai Baba & another of Shiva are worshipped regularly as per the Vedic rites by Sri Sai Narayan Baba and these two Murtis are exhibited for Darshan once in a year i.e., on the auspicious Deepawali day. These icons are present in the Sri Bhagawati Sai Sansthan, panvel. Before Sri Aadi Maha Shakti Balayogini Saraswati Amma attained immortality, she willed that all her rare idols of worship i.e., Durga Mata, Shivling, Nandishwar, Shaligram, Shankh etc. that belonged to her Ashram in versova, be given to Sadguru Sri Sai Narayan Baba.

While working with the Railways, Sri Sai Narayan Baba lived in Kurla Railway quarters which he converted into a small temple of Sri Sai Baba of Shirdi in 1964, giving it the name 'Sri Bhagawati Sai Sansthan' after his reverend father and Guru. Soon his name spread far and wide as he began to wring many a miracle, healing the sick and consoling the trought, in mind and aloud he emphasizes that it is Baba and Baba alone who is the giver. With increasing devotion to Sri Sai Baba, the Sri Bhagawati Sai Sansthan has traversed from 1964 to date and now stands as a beautiful landmark in panvel a little ahead of the S.T. Bus Stop as one goes towards Pune. The temple programme starts at 3:15 a.m. everyday echoing the Kakad Aarti and other rituals which include the Mahabhishek of Sri Sai Baba with 108 litres of milk and more than 1100 litres of water on Thursdays which is ardently collected by throngs of devotees in general and patients in particular, for it has proved to be beneficial for all ailments physical and mental. Sri Sai Baba's magnificent Murti was made by the Late Sri Harish Talim who was the son of Sri Balaji Vasant Talim who had sculptured the original Murti of Baba in Shirdi. On the Maha Shivratri of 1968, Sadguru Sri Sai Narayan Baba delivered extempore, the divine epoch "Sri Sai Mahima'' which is the essence of the glory of Sri Sai Baba of Shirdi. The Sri Sai Mahima is a Sai - praise chanted in 15 stanzas in just 20 minutes. For Sai Devotees it has become a daily prayer, and is very popular abroad and in Shirdi itself. People in any frame of mind find peace and solace in it.

The Sri Bhagawati Sai Sansthan was founded by Sadguru Sri Sai Narayan Baba on 28 th Feb., 1964 and has since worked towards a number of activities in charity, all under his personal supervision. Care for the poor cover a free medical dispensary with qualified Lady Doctors for Homeopathic, Allopathic and Ayurvedic treatment, and a Nursery school for the children of Panvel, who are given free pre - primary education in English. Both the dispensary and the Nursery School are located within the premises of the Sansthan. Distribution of free study - matter in the form of text and notebooks, etc. and uniforms to over 600 scheduled caste conducted several marriages of girls. His personal interest in the Blind has inspired him to give generous donations to the N. A. B. in Khandala regularly.

In recent times, a Modern Gaushala with Swedish technology in automation engineered by M/s. Alfa Laval Agri Ltd. Was donated by Sadguru Sri Sai Narayan Baba to the 110 inmates of the Leprosy institute in Shantivan about 10 Kms before Panvel. Satguruji has provided nine Holstein and Jersey breed cows to the Institute. The milk yield is entirely for the lepers there. Last year again, another such Gaushala with the latest Alfa Laval technology was built in Panvel in the premises of the Sansthan and the yield from the three Holstein cows goes entirely to the children of the hutments.

As he radiates the splendour of godliness, Sadguru Sri Sai Narayan Baba takes aspirants from all parts of the world to new heights of spiritual awareness by his tireless efforts to spread the word of Sri Sai Baba of Shirdi. On requests from Sai devotees he has set up many Sathsangh centers in India and abroad, among them being in U.S.A., London, Lagos, Honkong and Australia. Sadguru Sri Sai Narayan Baba has visited all these countries and more and has given interviews to B.B.C. & Asia News to bring Sri Sai Baba awareness. The Senate of America had origin gather along with the, people of these countries and organize prayer meetings bringing in and spreading Sai awareness. In 1996/97, 108 murtis of Sai Baba were installed at various centers outside India.Once a year, heads of all these Sathsangh centers in India and abroad, get to gather at Shirdi for an International convention where they narrate their centre's activities and exchange views.

The Sri Bhagawati Sai Sansthan has a hung International complex in Shirdi consisting of
1) A hung wonderfully built 6000 sq. ft. Hall for International convention.
2) Innumerable A/c & Non - A/c rooms self - contained flats.
3) Car parking.
4) In built electric Generator etc.

The complex can easily accommodate over 600 visitors at a time, which hosts this Annual International pilgrimage convention. This is held in the third Saturday of November every year and is highlighted by the Vishwa Shanti Maha Rudra Yogna for world peace.

Another Annual pilgrimage is held nearer to Sri Krishna Janmasthami when about 100 devotees are selected to join Sri Sai Narayan Baba to Haridwar & Rishikesh for Sathsangh and meditation. He celebrates the Krishna Janmasthami in the Sansthan temple in Delhi.

In recent times, Sri Sai Narayan Baba's significant contribution to Sai devotees is the 'Sri Gita Chalisa' wherein, from the 700 shlokas of the Sri Bhagawad Gita, 40 shlokas have been selected to compile the Chalisa. The Gita Chalisa with these 40 shlokas only now stands to be an essence of the complete Bhagawad Gita. Gita Chalisa has been translated in all major languages in India.

We praise our reverend Sadguru whose tireless efforts spread Baba Consciousness for a good today and a better tomorrow.